Custom molds and molding parts business include CNC machining facility, we specialize in the manufacture of plastic injection molds (overmolding and 2K mold), die-casting molds and precision molds together with molding parts and machining parts in the field of Automotive, consumer 3C electronics, telecommunications, home appliances and Industrial components sectors.
Detailed including:
Two Shots Molds or Over molds
Robot Transfer Molds
Hand Transfer Molds
Single Cavity Molds
Multiple Cavity Molds
Large Size Molds
Prototype Molds
Three Plate Molds
Insert Molds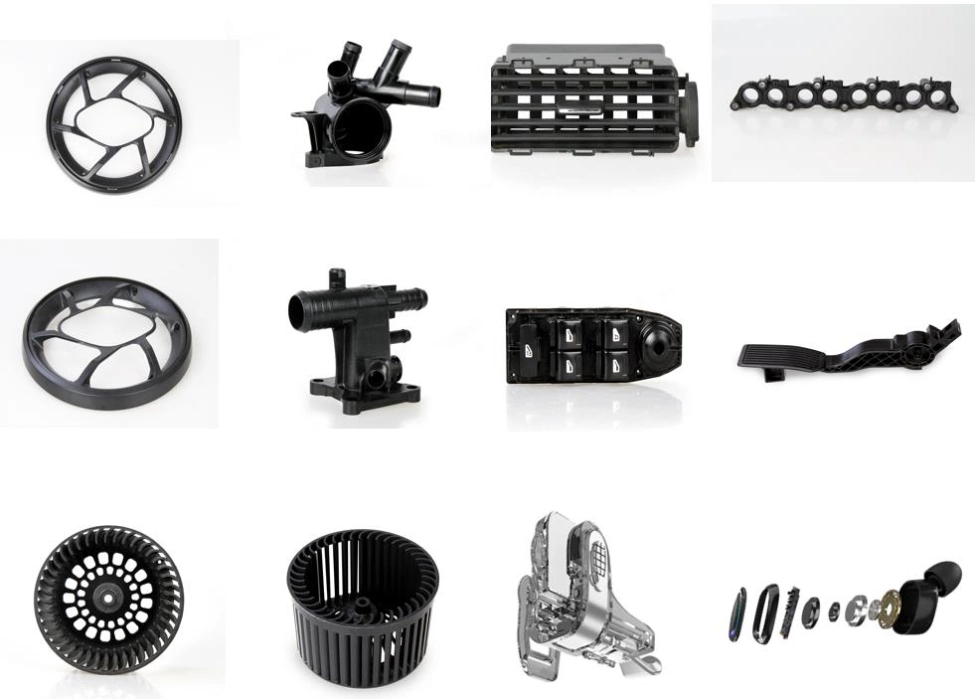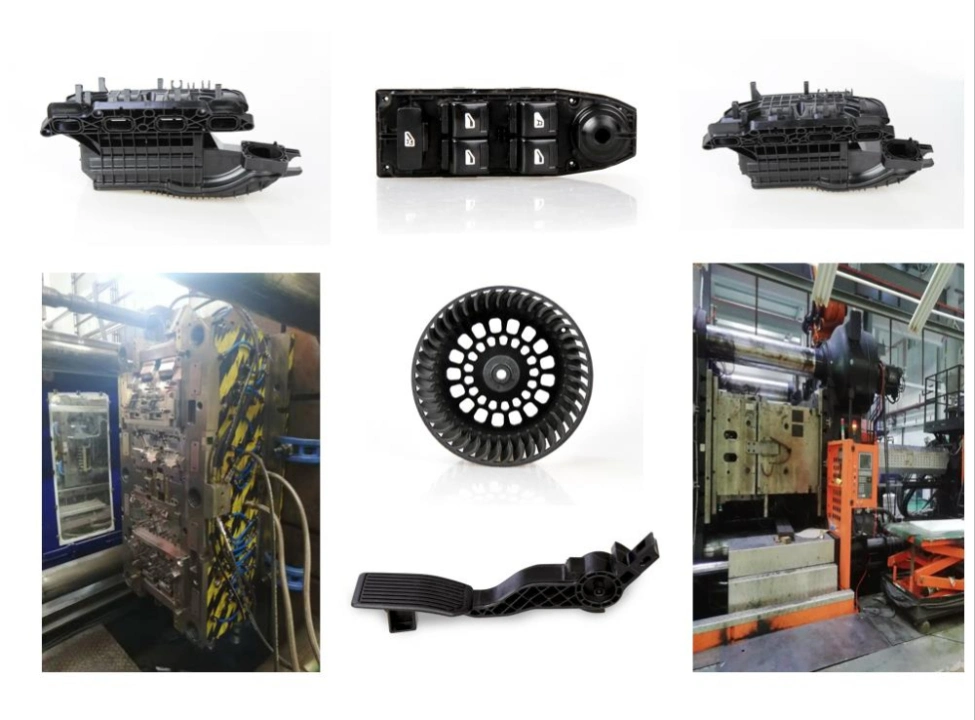 QUALITY CONTROL OF MOLD AND MOLDING
We believe in quality first, each process is inspected, optimized and verified that it has been done correctly, each individual involved has a responsibility to ensure that the strict tolerances are met by actively participating in our continuous improvement approach. From serial to proto, we control the steel quality, each components (ejectors, guides...) at reliable suppliers.
Big order compensation due to the sea water damage in 2007 deeply taught us how to kill the tiny potential risks through strict mold quality inspection with various tests and how to be a responsible partner to win long development. We understand the unique benefits and properties offered by different types of plastics, and work closely with partners to find the best fit for their projects especially in the plastic injection mold and molding part area.
When we received a new project, our engineers will have a meeting to discuss the details of the product structure and plastic mold & die casting mold design.

For some special products, before we design the mold, we will do mold flow analysis, and then carefully compare all the parameters

After careful analysis and discussion, in the end, we will provide most reliable and cost-effective solutions to the clients.
All machined components are carefully checked and measured to ensure they meet exacting tolerances, this includes:
Mold Steel hardness inspection
Mold Core and Cavity Steel Dimension Inspection
Mold base Inspection
Electrodes Inspection
First Article Inspection
Mold Assembly Inspection
Mold Trial Report and Samples Inspection
Final Full Inspection before mold shipment
CPK Inspection and PPAP Testing
Mold wooden box packing inspection
A full set of technical document inspection
Mold business with one of the America Customer:
Mr. Jeff Terry talk about the plastic toys and his other projects. His company has six plants in different states, two of them are located in MN, each plants has different engineers in charge of different mold projects. Currently, 3 engineers from this company are doing injection mold business with us. Jeff and another colleague John had made 11 orders in the year of 2019 and the total order amount is about 3.6 million dollars. He appreciates and recommends us who has seemed us as the golden supplier.
The feedback from one of our UK Customer:
Mr.Tim Plunkett comes from England. He has been satisfied with our plastic parts used for control the gate. Tim is being satisfied with our china injection molds. This was the first time he visited our factory and we had built a mutual benefit relationship. When he went back to UK, he placed another projects' order.
The Germany Customer:
These two customers come from German and they are checking the samples. One customer named Herry Raithel Stefan. Our sale manager was describing our plastic mold manufacturing process to them and taking their suggestions down. As they were said, our injection molded parts are perfect and they will bring their other five projects to us from Germany when they will return back.
The Australia Customer:
Paul and Peter were talking with our engineers and sales manager about the injection mold manufacturing. They defined our factory was the best after they visited four suppliers from China. Finally, they decided to choose us for supplying the plastic injection molds to them. After a long-time cooperation, they have marked us as we are their golden mold supplier in China.
Our customers are not limited to them but four of them above had all visited our mold facility often, and in business with us for a long time. Besides, we have lots of clients in the list of sign confidentiality agreements from US and their end customers are from Europe. So we are familiar with tool and quality requirements or standards of US and EU.
MOLD SERVICES' CONCEPT
The core Business Philosophy we pledge to always offer our customers the most cost-efficient solutions in a win-win focused cooperation where we commit to providing full customer service with on-time delivery of the highest quality products.
Communication is key to ensure a good quality molds, from the specs discussion, the tool drawing approval, each validation in dimensions, appearance, productivity...You get the mold or molding parts you ordered.
The way we handle your mold or molding parts' orders differs greatly from traditional methods. We always keep in mind the time and cost factor every step of the way, from the first contact up to production and shipment.
We optimize communications and shorten internal procedures to be able to get going on your project as fast as possible. We only use high quality materials and make adjustments to our internal mold manufacturing processes upfront to match the external shipping schedules and flight times of our shipping partner in China.
Our team are proficient in the English language and will be able communicate with you in a clear manner and respond to your questions or concerns properly.
Our experienced plastic mold and die casting mold design engineers provide you with design for manufacture advices which could potentially save millions of dollars on final manufacturing costs.This front-end advice includes detailed analysis of your plastic products manufacturability and provides the confidence that your products will reach the marketplace fully functional and in a cost-effective manner.Some clients were introduced do business directly with us by other client based on a deep trust and molds are easy to maintain and plastic components that are cost-effective to produce.





We also excel at making new concept molds, a field in which we have been engaging in since 2011, where our staff made its' first forays into the design and manufacture of New Concept molds.The design philosophy for New Concept molds dictates that the mold structure is designed with easy assembly and disassembly as primary concerns.We simplify the mold structure and processing, which in turn lowers tooling costs and also greatly improves the effect of both molds and products (such as avoiding flash and improving shrinkage issues).This kind of design applies to large size molds, and can reduce mold size, so as to further reduce costs, as production can be performed in lower tonnage machines.


PRODUCTION SERVICES OF INJECTION MOLD AND MOLDING PARTS:


In addition to mold design & manufacture, we also provide part molding and assembly services. Our machine park includes Haitian injection machines, with a capacity of 200 to 1600 ton, i.E., the primary range of tonnage used for mold testing and mass part production.Over the past one and a half decade, we have acquired vast experience in manufacturing auto components, including, lamps, fenders, dash boards etc.And our long term partners include Ford, Toyota and BMW etc.Molding Materials available:PC, PP, PVC, PA, PA66, PBT, PMMA, POM, PS, PPR, PVC, PP+GF, PP+GF, ABS, ABS+PC, ABS+PMMA, PA66+GF, etc. In addition, we will also be able to process any material required or provided by our customer.
DIE CASTING MOLD AND MOLDLING PARTS:
Take Die casting mold for example, it must take good care of the pre-phase analysis of feeding gate and slag well.Only to design and position the 2 places right, the mold won't have any problem in the future, and this needs rich experience to make it right. Die casting hasn't the sayings of machine setup to adjust parameter for getting qualified samples.It only needs to add more material for part forming when it is not fulfilled, and the part will be in good condition when it has good surface and without empty cell inside.
Normally, if the mold cavity & core are nitriding treated 0.08-0.2mm on forming surface to HRC58-60 after they are heat treated, the mold life will be up to 60, 000 shots.We will advise customer to temper the mold to remove the stress after 30, 000 and 60, 000 shots, in that way the mold life can be up to 100, 000 shots.
Our molds and CNC parts' team has been the driving force on a several large projects involving industrial design, mechanical design, and management of prototyping and tooling for famous brands.Molds are supplied for notable companies.Sister Machining team offers CNC parts services like CNC Milling/CNC Turning/4 & 5 axis CNC Machining/Stamping/Laser Cutting/Bending/Casting for customers.
Standard: ISO 9001:2015 and IATF16949:2016 CERTIFICATED
Mold Surface Finish:
Texture(MT standard), High gloss polishing
Mold Life:
5, 000 to 1, 000, 000 Shots.(According to your working environment.)
Hot/ Cold Runne:
HUSKY, INCOE, YDDO, HASCO, DME, MoldMaster, Masterflow, Mastip, Taiwan made brand.
Cavity/Core Steel:
P20, 2311, H13, 2344, Starvax 420, 236, AdC3, S136, 2312, 2379, 2316, 2083, Nak80, 2767...Etc.Multi-cavity injection molds (up to 32 cavities)
Equipment:
High speed CNC, Standard CNC, EDM, Wire Cutting, WEDM, Grinder, Plastic Injection Molding Machine for trial out mold from 50-3000T available.
Mold Building Lead Time:
Normal Lead time for molds:15-20 days for test molds and 25-50 days for hardened mass production molds, depending on part geometry complexity, cavity amount, etc., as well as customer interaction.
Mold part materials:
PC, PP, PVC, PA, PA66, PBT, PMMA, POM, PS, PPR, PVC, PP+GF, PP+GF, ABS, ABS+PC, ABS+PMMA, PA66+GF, etc.In addition, we will also be able to process any material required or provided by our customer.
Mold weight and size:
The size of large mold provides by us is up to 2m*2.3m, the weight of mold is up to 25 tons.High precision machining facilities we are capable of reaching tolerances up to 0.003mm can be met with advanced Japanese EDM, CNC machinery.Finally all details is according to your 2D, 3D Drawing and other requirements.
Mold Base/Base Material:
Hasco Standard, European Standard, World Standard LKM, FUTA, HASCO, DME.Or as per Customer's Requirement.We enjoy great support from high-quality components suppliers, such as YUDO, MOLDMASTERS, HASCO, INCOE and so on, which helps us guarantee our molds are world-class.
Design & Program Software:
CAD, CAM, CAE, Pro-E, UG, Soild works, Moldflow, CATIA...Etc.Our mold design engineers all have more than 10 years' experience, and can accurately pinpoint our customer's design intent.We use advanced software, including UGNX6.0, Proe5.0, SolidWorks2013, Moldflow2012, AutoCAD2011 and PowerMIll, which is controlled by a progressive management system.
Processes of mold/ Tooling Descriptions:
1. Start from part design analysis.
2. Mold design drawing and DFM report available so you can see how is the mold going to be before mold making.
3. If product is complex, moldflow report will be present as well.
4. In house mold making shop ensure you mold quality under well control.
5. Normally it takes 21-49 days to make mold, precise time depends on part design
MORE ABOUT OUR MOLD FACILITY
7000sqm factory with "ISO 9001", "TS" Certificates.
Our GR mold facility offers a complete range of services including:
Fully supported Factory and Office in China
Design and Manufacture of Precision molds & Parts
Interchangeable Parts Manufacture Capability
Plastic Injection & Component Production
Capacity for huge Packaged Projects
Class 101, 102 and 103 Tooling
2K molding and Secondary Processing
In-house Tool Testing
ENGINEERS TEAM:
Engineering Team for mold design engineers all have more than 10 years' experience, and can accurately pinpoint our customer's design intent.We use advanced software, including UGNX6.0, Proe5.0, SolidWorks2013, Moldflow2012, AutoCAD2011 and PowerMIll, which is controlled by a progressive management system. Prior to mold development, our engineers and tooling experts will assist customers with technical guidance in order to minimize problems during the subsequent production process.Our support includes mold flow and feasibility analysis as well as advice to ensure complete accuracy of drawings, which in turn help prevent problems occurring once the production process is in motion.
High-quality Component Supplier Support We enjoy great support from high-quality components suppliers, such as YUDO, MOLDMASTERS, HASCO, INCOE and so on, which helps us guarantee our molds are world-class.Situated in Shenzhen, China's major manufacturing hub in the Pearl River Delta, we are only a short drive away from the international airports and container ports of Hong Kong, Guangzhou and Shenzhen, meaning that logistics is never an issue for us.
PRECISION MACHINING:
As our machine park includes several 3 Axis CNC units, we can also provide our customer with high-quality, small batch precision parts CNC machining services.We have acquired significant experience in machining prototypes and high-precision metal parts with stringent tolerance requirements.With our precision machining facilities we are capable of reaching tolerances up to 0.003mm
PROJECT MANAGEMENT:
Before any tooling program can commence, we subject the project and its processes to rigorous analysis and virtual testing.Many projects require substantial tweaking before they can be launched, and with our expertise at both design and tooling, we can guarantee that our customer's project is in safe and capable hands.We support our customer from the start of the project with mold flow analysis as well as sound advice on both tool and product design.Of course we maintain constant communication during both the tooling and testing process to ensure our customer is fully up to speed at all times.
A good outline suffices to start up the development process of a product.In close consultation with the client, our design studio translates the needs and criteria into a mature 3D design.We use the integrated CAD/CAM-system Cimatron for that purpose.
Based on the design, our team make a test mold and produces the first prototypes.We measure and test these elaborately, adjusting the design and mold until the prototype meets the requirements for a 100%.3D-printing is also used in this stage of the process.
Making prototypes, testing, adjustments and finally building the actual mold, it is all done "in house".The advantages are clear:Short delivery terms, accuracy, high quality materials, efficiency and a very strong reliability.
DFM REPORT:
We have decades of experience in both design and trouble-shooting, and have long since realized that composition of the DFM report requires a proactive approach.Therefore, we move aggressively to ensure a complete design is prepared within the shortest time possible.Communication with the customer is essential during this critical phase, and we have staff who can be reached around the clock to prevent any loss of time.
The success of a tooling project hinges on three primary factors:That parts produced are in full compliance with specifications, as well as quality and timely delivery of the mold.Although that may sound simple, tool makers will know that all projects present challenges that require attention, with little margin for error.At mold we are fully aware of the many pitfalls, and we always aim to eliminate as many issues as possible during the earliest phase of the project when we compose our DFM report.
PROCESS REPORTING:
Once a tooling project is in motion, we will provide weekly schedule updates, and our customer will always be 100% aware exactly how the project is progressing.We have built hundreds of molds over the course of our company's history and understand the importance of keeping our customer up to speed on all developments and will keep in constant contact so we can quickly decide which measures to take, in the event we run into unforeseen challenges during any phase of a given project.
When all tooling is finished and the preliminary T0 trial concluded, we will immediately report our findings to the customer along with any suggestions we may have for corrective procedures, if so required.Subsequent tests will be run in full accordance with instructions, to ensure parts match perfectly with drawings.
QUALITY IMPROVEMENT:
We pay meticulous attention to every detail throughout the full duration of any project we commit to and have invested in top of the line CMM equipment to ensure reliable measurements and guarantee that parts conform to drawings.Process Control is an inseparable part of our QC policy which naturally includes control of both the tooling and molding processes.
Our superior product quality is guaranteed by:
1.Professional mold quality control engineers
2.Strict mold production flow
3.Precise mold inspection machines In addition, we always make sure to obtain material certificates, all of which are available to our customers upon request.Our list of customers includes notable multinationals, all of whom can verify that we always live up to our promise:Timely delivery of zero defect molds and parts.
MOLD AND PARTS PACKING AND LOGISTIC
At least two mold trials will be conducted to ensure plastic product meet customer requirement.


1-Wrapped with a plastic bag or pearl-cotton protective packing material.
2-Put 5 layers of standard export cartons with a rigid protective layer.
3-Use glue tape to seal cartons.
4-Loading on the pallet with protective rigid corners
5-Loading container for sea shipping.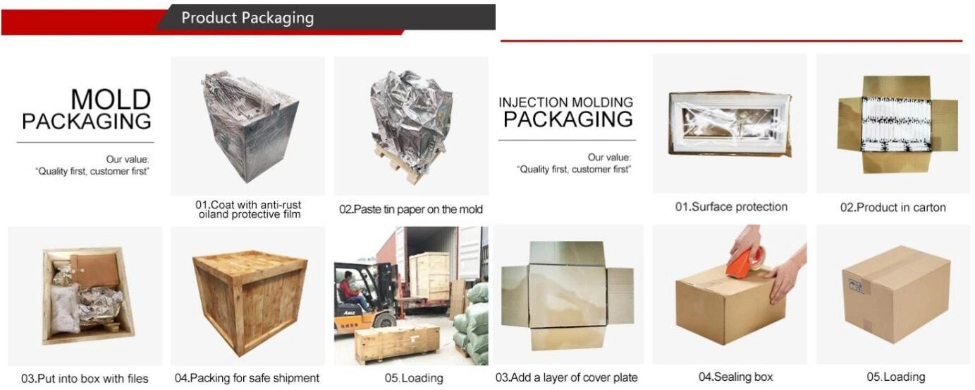 Finished molds are sprayed with an anti-corrosive agent, and stored in a ventilated place to avoid corrosion before delivery -We use wooden crates or metal containers for mold packaging, Heat treated wooden box with qualify and certified supplier to minimize the moisture content in the box to prevent rust.-We will arrange SEA or AIR freight with our reliable and competitive forwarders or as required by the customer
Large, Small and Complex projects are all within the scope of our capacity. Makes molds from single to 256 cavities incorporating multiple slides and lifters, collapsible or expandable cores, multiple hydraulic core pulls or unscrewing mechanisms, hundreds of interchangeable inserts,Numerous and shutoffs with demanding requirements for appearance and dimensional accuracy.
Our mold workshop has acquired 15 years' rich experiences and skills related to injection molding, sheet metal, casting, and extrusion with serve some of the world's famous manufacturers to being their products to market on time and under budget while meeting their Technical challenges.Mold team has multiple complex projects involving prototyping and mold in Households, Electronics, Auto, Medical, and Packaging.
A production and assembly oriented mold saves time and money. The perfect molds must to ensure high-quality products for mass production and serve easily. When you need other mold maker who understand Your process quickly and know how to make Your tooling team expected things done well, we are just here.
If you need immediate production on plastic or metal parts with your Existing Tooling or turn your concept into a real product through mold and CNC Machining,If you are just looking for the mold factory to help you design moldable parts that are optimized for manufacture, we can offers complete services from design, tooling through manufacturing and assembly.We believe in giving our clients as much advice as possible in terms of their personalized design manufacture process to avoid problems in the future.
I am very happy you can keep us in mold supplier file and audit our factory someday. Most of our customers are confident about our craft and quality. Contact us for a quote to find out how we can help make mold for your new design.
Ms Bella
High Standard Requirement, Precise execution, Zero Defect Tolerance.High quality of product and service is our ultimate goal, never compromise with the quality standard for any reasons.