The machines are three stations, injection preform, blow/stretch blow and product release. The raw material comes from the hopper to the
injection screw to inject preform; the plate rotates preforms to blow/stretch blow station with themselves heat, without any reheating for blowing,
Then the product will rotate to release station and drop down, it is fully automatically cycle rotation working mode.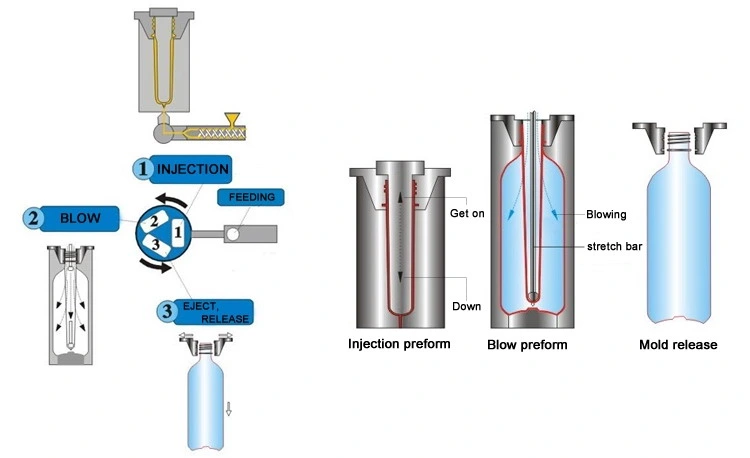 Comparing the traditional blow machine, JASU one step blow machines possess lots of advantages, first,no needreheating, with the preforms
themselves heating when injection to blow,highly save energy and shorten molding time, more importance is that one step machines have cut
off the transfer process from two step blow machine, avoidcontamination causing by transfer process, especially for Pharmaceutical and food
containers,save labor force andtransfer cost,decrease the production cost and increase product competitive power.
Model ISB800-3 and ISB800A-3 (larger size)
For PC, PS,PMMA lamp cover, LED light lampshade,Christmas flash light, garden and street light.
For PET high transparent,much thinner wall, cosmetic bottle 10ml to 500ml, PET wide neck jar, PET pharmaceutical bottle
For PP high transparent, baby feeding bottle, sport bottle
For PCTG, Tritan drinking water bottle, sport bottle.
Mould and tooling, we have mould workshop ourselves, advanced CNC machine and smart design engineers,we can treat different material and
size products from different customers over the world.
Auxiliary machine,we will equip you with the necessary quality auxiliary machines to ensure the production plan running well,we can supply you
one-stop service.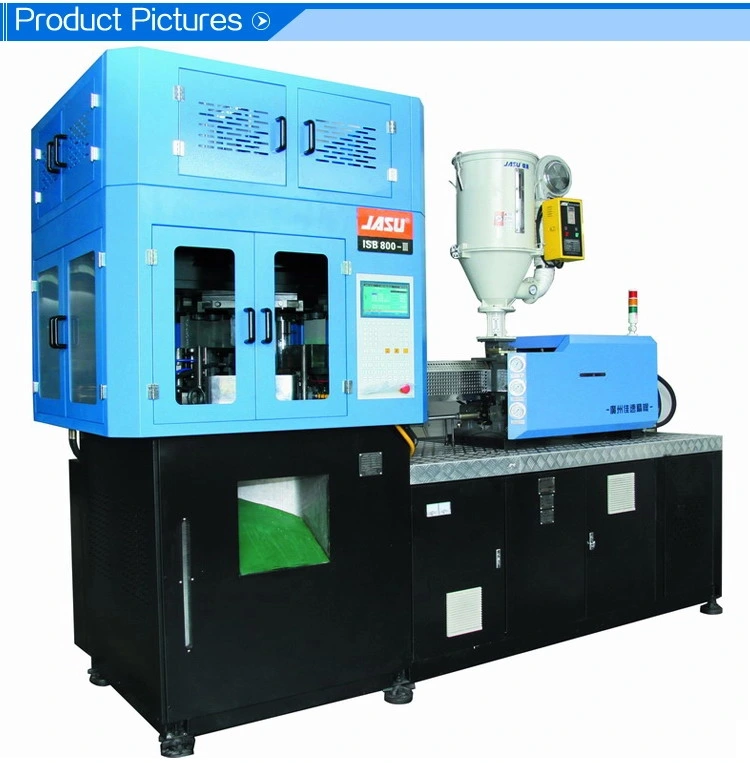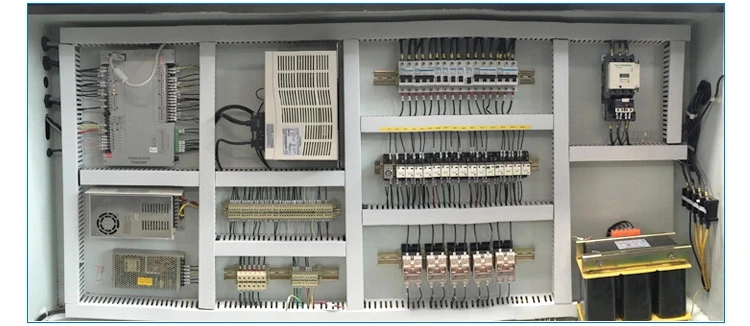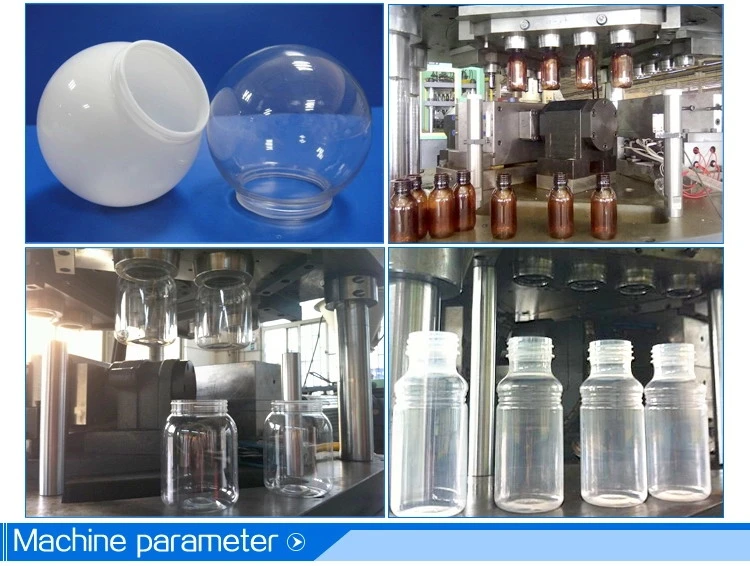 Model

ISB 800-3
Injection Part
Screw Diameter
40mm
Screw L/D Ratio
20.5:1
Screw Speed
0-190RPM
Theoretical Injection Capacity
238cm

3

Injection Pressure
174Mpa
Max. Hydraulic Pressure
140Kg/cm
The Actual Injection Quantity(PS):
225g(ps)/8O

z

Screw Stroke:
190Mm
Clamping Part
Blow Clamping Force:
80Kn
Clamp Tonnage:
400Kn
Wheel Diameter:
800mm
Max. Height of Bottle:
ISB:145/IB:140
Open Vertical Mode Trip:
430mm
Others
Max. Pump Pressure:
16Mpa
Motor Oil:
18.5Kw
Electric Power:
12.2Kw
Oil Tank:
400L
Overall Dimension(L*W*H):
3.8m*1.45m*3.0m
Weight:
5000kg

With the increasing requirement of high quality and elegant appearance in the packing field of food, beverage, and cosmetic, the plastic
containersmade by the old style extrusion blowing machine cannot meet the customer's demand any more. However, by one step injection
stretch blow molding machine, from the raw material to productis processed by one step.The whole process includes preform injection,stretch
blow and release. No trimmings, No runner gate material, but perfect neck, bottom and line, higher transparent, higher rigid. Stretch-blowing
molding
products come with thinner wall andsave more material.

One step Injection Stretch Blow Molding Machine completes a high speed molding without preform reheated. With the heat from preform injection
to stretch and blow, unnecessary reheating and shorten preform cooling time to save energy.

One step Injection Stretch Blow Molding Machine optimizes the working structure, removes molding disadvantage factor, cuts off the complicated
working procedure to ensure molding more reliable and increase the reject rate.

One step Injection Stretch Blow Molding Machine decrease the convey cost and avoid the second contamination, special for food and pharma
ceutical company. For example, to transit the 19g 500ML bottle, if the 1m³trunk used, it can load 1024 bottles, or 9280 preform, but if by the raw
material that can produce 56421 bottles. The logistic cost of material comparing with transiting bottles can be reduced by 98.2%; Comparing with
the cost of transiting preform, the cost can be reduced by 83.6%.

Compare with One-step and Two-step:
Molding

Process

Structure

Manpower/
Energy/
Space

Product Quality

One-step

From preform to product

One machine

Little

Not affect by damp and less pollution; Various kinds of shape

Two-step

Injection and blow molding are two separated process

1.Injection molding machine

2.Preform transiting machine

3.Reheating, stretch and off-moulding machine

More

Easy affect by damp and polluted; Singleness shape
JASU One Step Injection Stretch Blow Molding MachineModel ISB800-3/ISB800A-3 advantages are as follows:

1. The wheel rotation is driven by electrical servo motor, not hydraulic.
2. Full automatic controlling system, easy operating.
3. The temperature of material barrel and hot runner is controlled accurately by PIT.
4. More cost is saved than traditional machine.
5. Compact structure; less space needed.
6. Injection:
Hot runner and temperature control device are standard configuration. Only change mold for making a new product;
Stretch Blow:
Hydraulic mold clamping, core insert, stretch blow and bottom molding are standard configuration;
Product Release:
Equipped with a standard ejector.

GUANGZHOU JASU MACHINE CO., LTD researched, designed and manufactured BLOW MACHINES since 1989. Specialize in manufacturing
one step INJECION BLOW MOULDING MACHINE and INJECTION STRETCH BLOW MOLDING MACHINE. Attracting the market's concern
for the solutions we supplied to the high quality, high precision plastic containers with low cost and low energy consumption.
More than 100 employees and 30 professional technicians dedicate themselves to JASU® brand series machines, our R&D department devotes
to constantly developing new blow technology. We have set up 30 representative offices and 24hours maintenance service network throughout
China.
JASU® has established a high reputation from customers home and abroad, specially the oversea customers from Southeast Asia, Middle East,
Africa, Europe, South America, etc. At the end of 2014, the export amount took up 60% of the yearly sales.
Located in Pearl River delta area, closed to vessel port and air transportation services, special near HONGKONG air port, we have the competitive
advantage of a fast delivery system and centralized supply chain center. We sincerely wish to invite the trade partners and import buyers to visit our
showroom, as well as the workshop, to discuss the possible cooperation.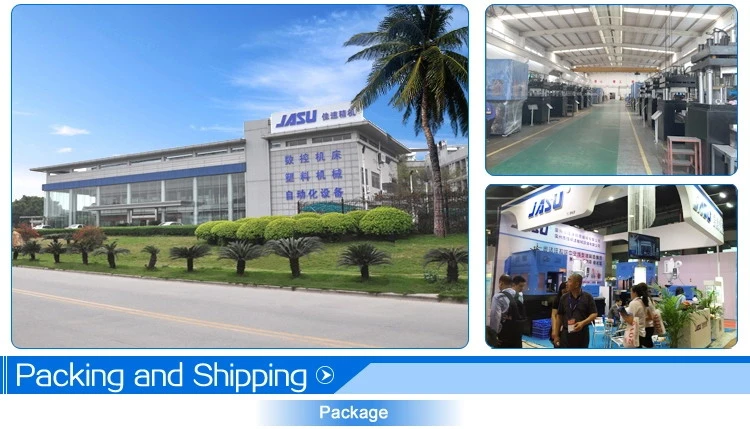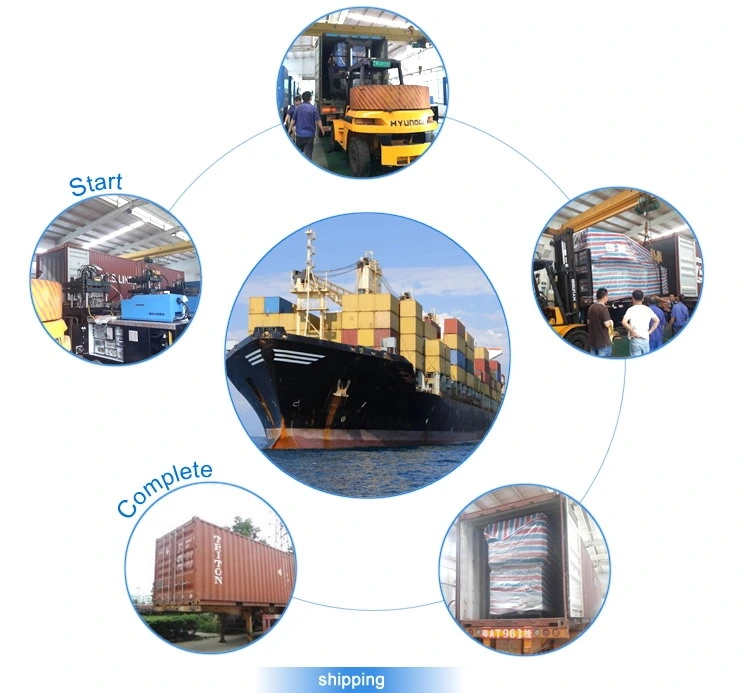 Welcome to Visit Our Company. For Further Informations, Please feel free to Contact us.

If you are interested in our products

We have someone who tell you Solutions Products