JASU FACTORY ONE STEP INJECTION STRETCH BLOW MOLDING MACHINE ISB 800N-3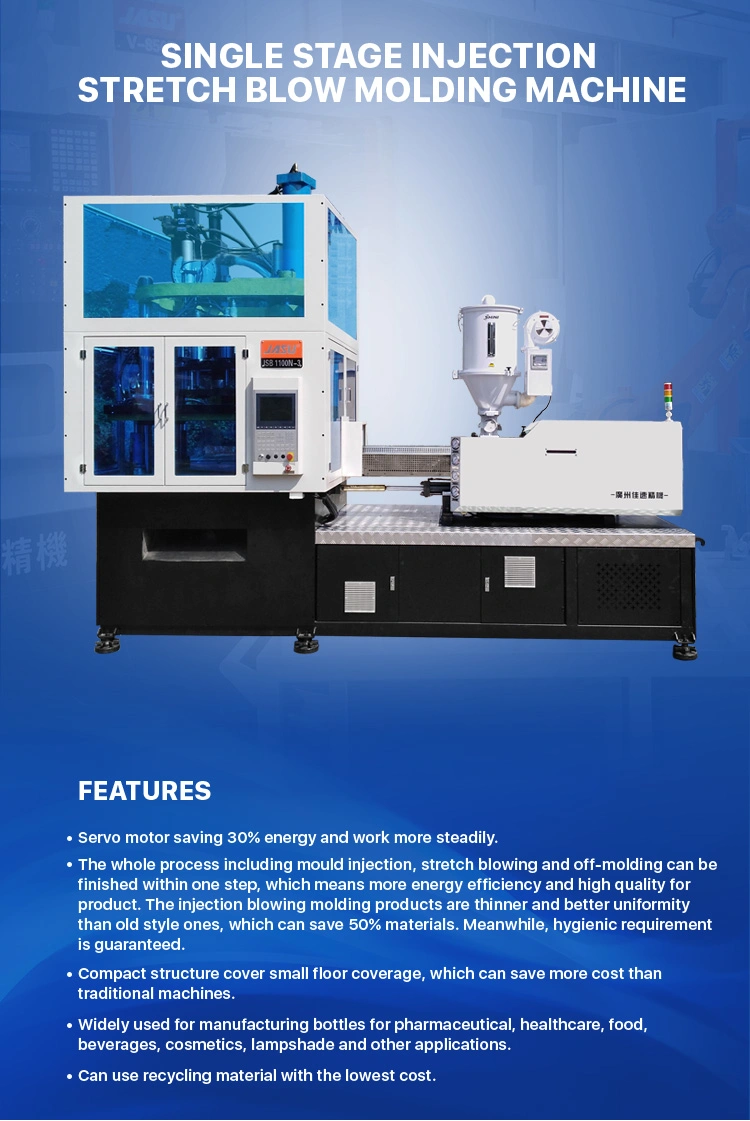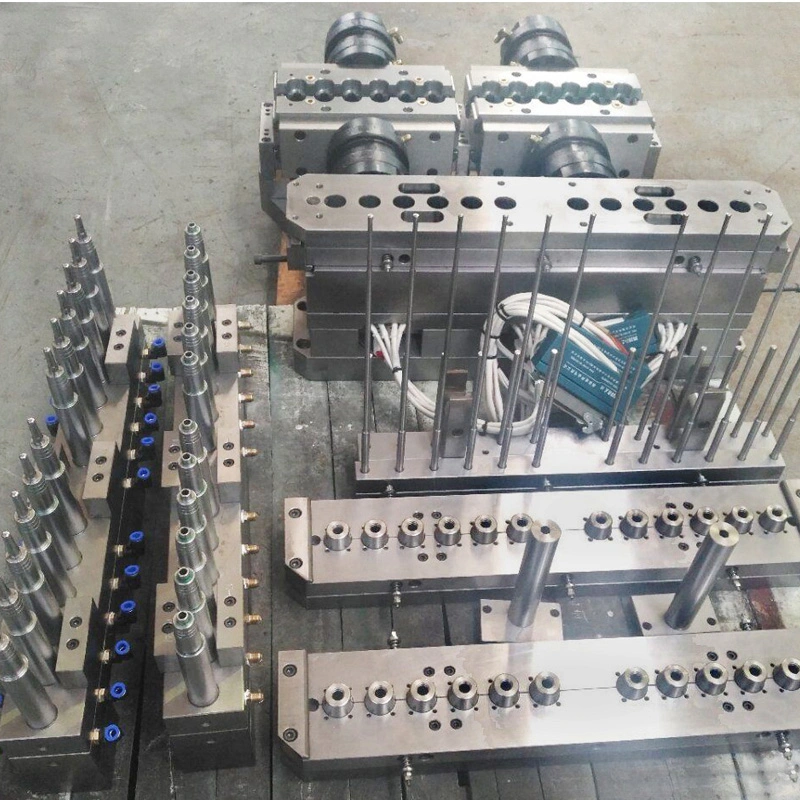 JASU one step blow machines include
Injection blow molding machine and injection stretch blow molding machine.
The machines are three stations, injection preform, blow/stretch blow and product release. The raw material comes from the hopper to the injection
screw to inject preform; the plate rotates preforms to blow/stretch blow station with themselves heat, without any reheating for blowing,
Then the product will rotate to release station and drop down, it is fully automatically cycle rotation working mode.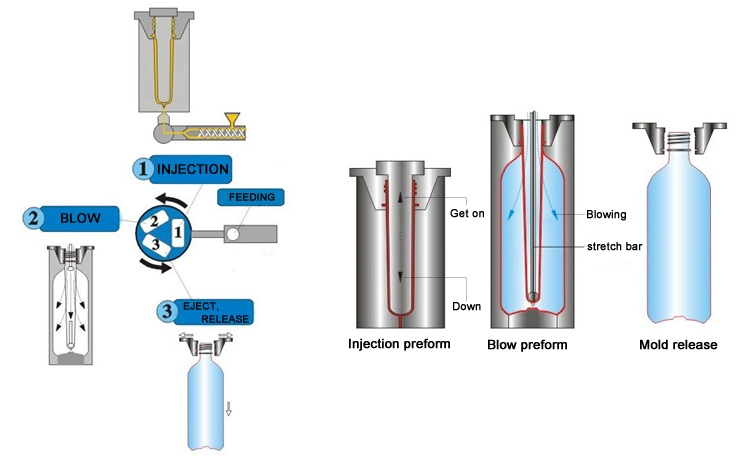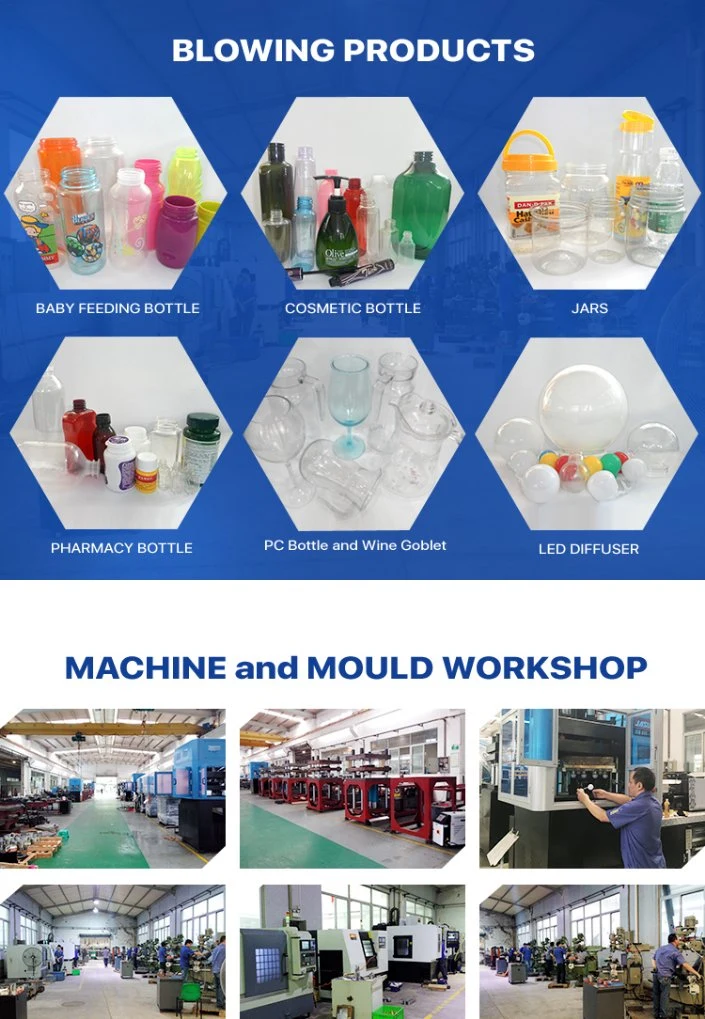 JASU One Step Injection Stretch Blow Molding Machine advantages are as follows:
1. The wheel rotation is driven by electrical servo motor, not hydraulic.
2. Full automatic controlling system, easy operating
3. The temperature of material barrel and hot runner is controlled accurately by PIT.
4. More cost is saved than traditional machine.
5. Compact structure; less space needed
6. Injection: Hot runner and temperature control device are standard configuration. Only change mold for making a new product; Stretch Blow:
Hydraulic mold clamping, core insert, stretch blow and bottom molding are standard configuration;Product Release:Equipped with a standard ejector.
ISB 800N-3 Main Specification
Main Devices Brand
Material
PC,PP,PET,TRITAN,PCTG, PETG, PMMA,PS
Servo Motor and Oil Pump
Phase (Italy) and Eckerle (Germany)
Screw Diameter
40mm
Sealing Parts
SealTech, China
Screw L/D Ratio
20.5:1
Hydraulic Valve
Yuken(Japan), TAIWAN
Screw Speed
0-190
Air Valve
AirTAC
Theoretical Injection cavity
238cm3
Air Cylinder
AirTAC
Injection Pressure
174Mp
Controller (PC)
JASU, TAIWAN
Max.hydraulic Pressure
140kg/cm
Low-voltage components
Joint Venture
The actual injection quantity
225g(ps),8Oz
F.R.L
China
Screw Stroke
190mm
Servo Motor for Turntable
Inovance,China
Blow Clamping Force
80kn
Gear Reducer
SESAME, Taiwan
Clamp Tonnage
400kn
Wheel Diameter
800mm
Max.Height Of Bottle
220mm
Open Vertical Mode Trip
570mm
Max.Pump Pressure
16Mpa
Servo Motor
22kw
Double pump
22kw
Electric power
8.9kw
Tank volume
420L
Dimension of Machine
4.2*1.75*3.55m
Machine Weight
5T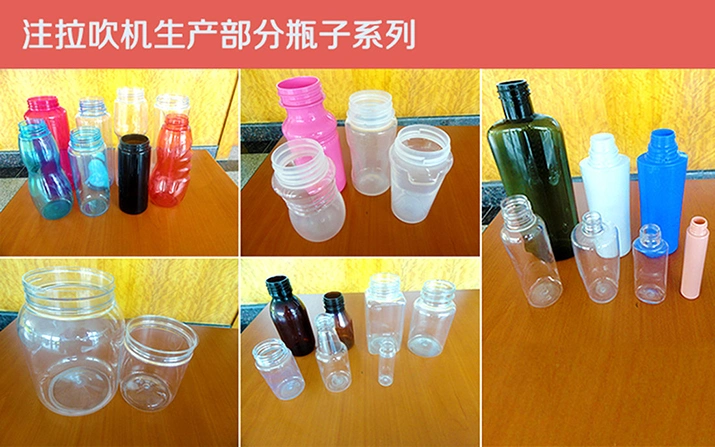 For PC, PS,PMMA, SAN lamp cover, LED light lampshade,Christmas flash light, garden and street light.
For PET , PETG high transparent,much thinner wall, cosmetic bottle , PET wide neck jar, PET pharmaceutical bottle
For PP high transparent, baby feeding bottle, sport bottle
For PCTG, Tritan drinking water bottle, sport bottle.
Mould and tooling, we have mould workshop ourselves, advanced CNC machine and smart design engineers,we can treat different material and size products from different customers over the world.
Auxiliary machine,we will equip you with the necessary quality auxiliary machines to ensure the production plan running well,we can supply you one-stop service.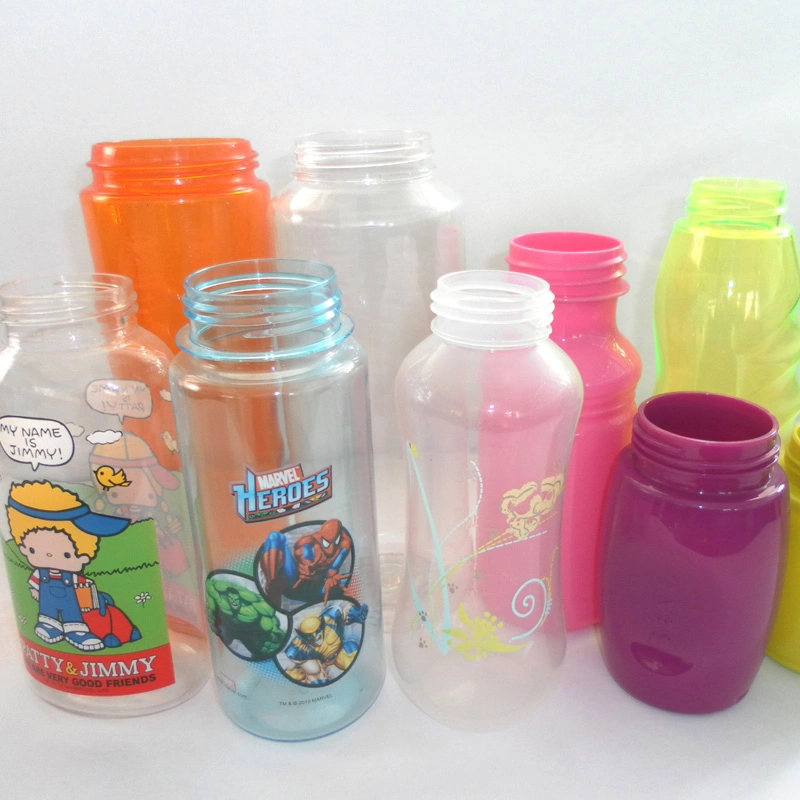 JASU group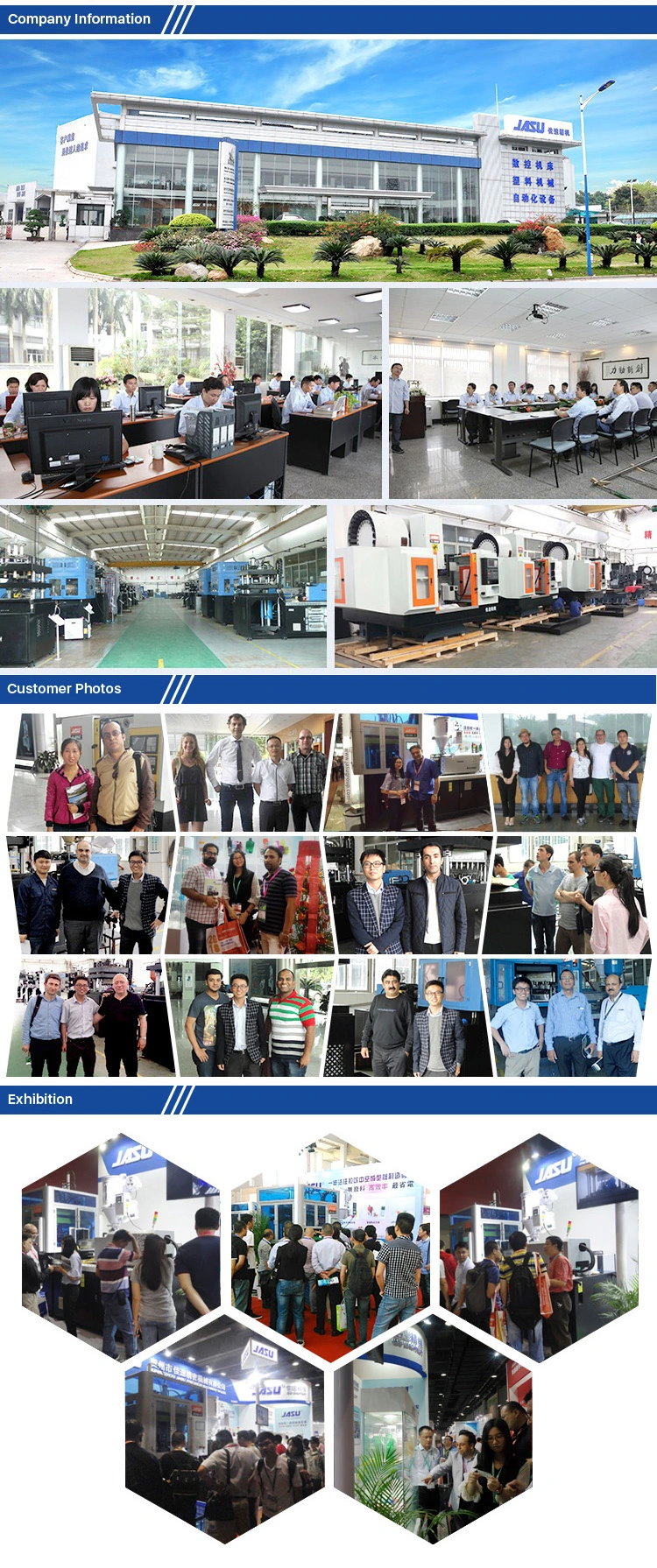 Gauangzhou Jasu Precision Machinery Co.Ltd is a sabusidiary of JASU International Machinery Group locates in Guangzhou China, which is top 3 supplier of CNC machine tools in South China. JASU owns R&D center and factories in Guangzhou. JASU has been dedicated to manufacturing machine for 20 years. Absorbing the design and manufacture of Taiwan and Germany, JASU create a series of highly distinctive, automatic and cost-effective one step Injection (Stretch) Blow Molding Machine. JASU has got high reputation and trust among customers by means of modern management method, perfect quality, novel design and reasonable price.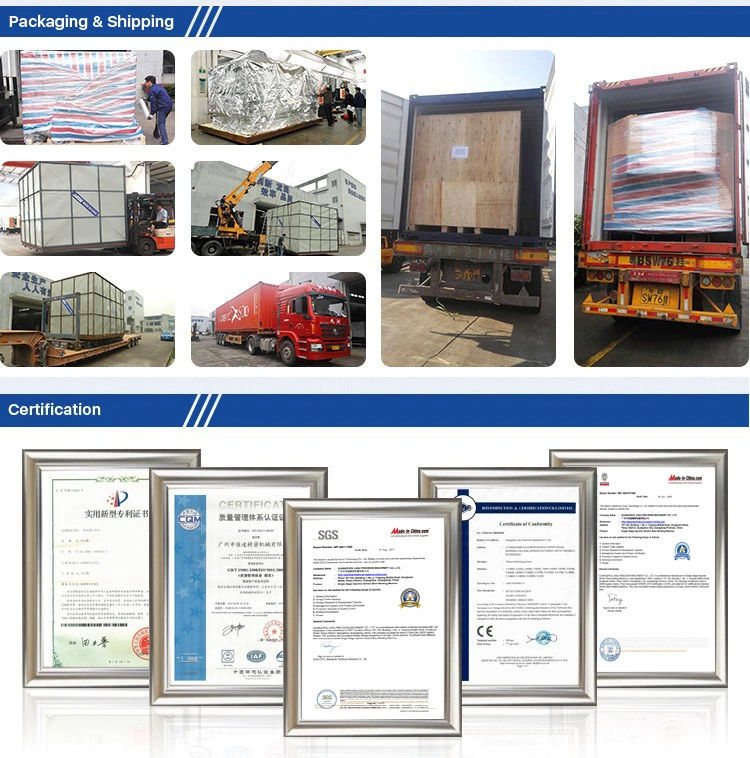 Your Consultant for specialist :
Monica






FAQ:
Q1: All of your products are made by yourself or compacted via purchasing from others?
A1: JASU have independent technical team who focus on making machines and moulds, all the products are made by our technical team.
Q2: What is the ability of your factory?
A2: About injection stretch blow molding machine, we can product more than 30 sets machine per month
Q3: Do you have any technical supports about your products?
A3: We have had long term collaboration with German, and we have a lot of cooperation with a lot of advanced manufacture company on the world.
Q4: Do you have any other service about your products?
A4: We have a lot of experience on making complete "Turn-Key" projects and specifications for our clients. Also we have a fixed service system

Pre-Sales Service
* Inquiry and consulting support.
* Free product design.
* Visit our Factory.

Warranty
* The machine and mold guarantee for one year with repair/ free replacement of defective parts.
* Spare parts of machine components, mold components and tools are shipped along with the machine.

After-Sales Service
* JASU wants to make sure you are getting the very best out of the machine and mold. After delivery, we will send our engineer to your plant to train your staff how to use the machine well, until we get approval by the customer.
* Remote assistance to help you solve problems in case of machine system failure.

Q5: The route to JASU factory
A5: A: Our factory near Line 3 Shiqiao suway station A exist
B: It takes about 15 minutes from Guangzhou South Railway Station to our factory
C: It takes about 50 minutes from Guangzhou airport to our factory